2018 Microlabs
These break-out sessions give you a chance to interact with SwitchPoint presenters as you work side-by-side to design hands-on, practical solutions to real-world problems. Check out this year's microlabs and use them to tailor your SwitchPoint experience.
Microlab 1
Big Dire Data
More and more, the world is making decisions based on data. As machine learning's promise becomes a reality, we can't forget about data considerations, including collection, security, privacy, equity, measurement, and money. Where are we getting data? How are they collected? What do they look like in their rawest form? Who is analyzing the data? Where are the gaps? There's not an established blueprint (yet) for how to use data for health and humanitarian issues, but we can start to develop one in this microlab.
Calling All Wonder Women: Let's Close the Gap—We're Done Minding It
Most of the public health workforce is female, and yet a minority of leadership positions are held by women. Momentum is growing around examination of this gender gap in global health leadership and what can be done in all corners of the global health field. Engage in thoughtful roundtable conversation with three women helping to spur this movement and reflect on what you can do to unleash your own inner leader, confront the gender gap, and mentor other women to do the same.
E-Learning 2025+
What is the eLearning of the future? How will the roles of instructors and learners change? What new technological innovations will be developed to improve outcomes in primary through adult education and training for health workers? From school systems to health systems and beyond, join us as we fast-forward into the 2025+ eLearning experience.
Mentoring
Celia Hodent
,
Vithika Yadav
,
Rebecca Kohler
,
Mike Dimpfl
,
Mark Otter
,
Phaedra Boinodiris
,
Juan Bergelund
,
Karim Sy
,
Tom Tasche
,
Vaughn Hester
,
Hamdan Azhar
,
Cheick Touré
SwitchPoint brings diverse ideas and people together to bring humanitarian concepts to life. Meet with four SwitchPoint speakers in 15-minute one-one-one mentoring sessions driven by you. Ask your questions, share your ideas, learn from their experiences, build your networks, hone your goals, design your future. What is your SwitchPoint and how can you make it happen?
Next-Gen Learning Design, Digital Accreditation, and Workforce Development
How do we design curricula and learning platforms so students and professionals are equipped to tackle pressing global challenges? How can we utilize technology to track accreditations and certifications and interface with other systems? How do we make systems work for us versus the other way around?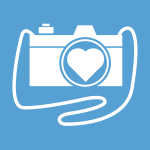 Visual Storytelling: The Truth Is Simple—Capturing It Is Not
Photography is one of the most critical and compelling means of visual communication. It can inspire action and reach broad and diverse audiences. But with compelling imagery comes responsibility and opportunity. Employing new technologies, showing greater diversity, and taking a "slow" approach allows creativity to take flight, resulting in better and more accurate stories. In this microlab, we will delve into the role we play as storytellers to help change damaging visual tropes and stereotypes, and the ways in which this benefits us all.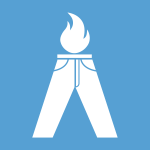 World on Fire
How pervasive and insidious is fake news? Political speeches, news stories, press releases, ads, social media, TV, radio, professional studies, and reports all have the potential to inform or misinform. Hear from top journalists focused on accurate reporting, real facts, exposing the strategies of misinformation, and how to advance the safe, ethical, and effective use of information and information technologies day to day and during humanitarian and human rights emergencies.
Microlab 2
Behavior Science
People behave in peculiar ways. We tell ourselves we'll definitely exercise tomorrow, but when the alarm goes off, we're not so sure. The traditional model of human behavior holds that human beings are rational actors who consider the available information, make decisions in their best interest, then follow through with action. But our everyday experience tells us that's simply not true. If we know that humans aren't perfectly rational beings with impeccable follow-through, why do we design programs and interventions as if they are? Embrace your inner behavioral scientist in this microlab as we explore how and why humans make decisions that just don't make sense—and what we can do about it.
Blockchain, Biometrics, and Identity
Blockchain and biometrics—you keep hearing about it, but how do they pertain to you and how are they being used in humanitarian and development solutions? The world is coming to a tipping point when it comes to matters of privacy and identity. What is meaningful and informed consent in a post-privacy world? What has to change? Who decides? For displaced and vulnerable populations this is especially sensitive but this affects everyone on the planet. Learn about the latest applications of blockchain and biometrics in humanitarian work and join the discussion about rights, privacy, comprehension, and appropriate technologies.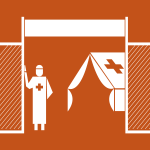 Community Health Workers in Action
Illness is universal, but access to health care is not. How do we build systems that reach everyone? Step into the role of a health systems designer and take on the challenge of ensuring health for all in a Pandemic-style simulation. From holding off the next disease outbreak to beating the clock against illnesses that kill before many can reach a clinic, participants will work together to overcome the challenges of health delivery in the world's hardest-to-reach areas. What is the secret sauce for optimizing community health systems? Come find out!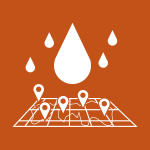 Dam Water
Irrigation, water supply, hydropower, and other infrastructure projects depend on the availability of sufficient water resources, but these resources are vulnerable to climate change, population growth, and shifts in land use associated with urbanization, industrial growth, and increasing demand for food. To ensure water is managed in a sustainable, efficient, and socially equitable way, RTI is supporting governments and planning authorities in adopting a framework known as integrated water resources management. Fekadu will share an overview of the projects he's led on water around the world and discuss the models he uses to evaluate water availability. He can even show you where your water originates.
Radical Refuse – the Art of Reclaiming
"Nothing is lost… everything is transformed!" – Michael Ende (Never-ending Story). Practicing the art of reclaiming and re-visioning how we interact with our trash. Modern consumption vs. invention, creativity and recycling with purpose. Join in on a highly interactive Microlab with academics, artists, and activists dealing with waste, consumption, equity, social enterprise, environmentalism, and the communication of big messages for our planet. 
Social Entrepreneurship that Supports Local Livelihoods
Investments in women + clean-energy technology + economic opportunity = prosperity for all. Learn how solar lighting, mobile connectivity, clean-cooking solutions, and an ancient, gluten-free, African super-grain can advance sustainable livelihoods for women, improving the health and wellbeing of entire communities. 
Universal Health Everywhere
We all need it to be and stay healthy without the burden of financial hardship. Universal health includes access to well-trained health workers, treatment and medicine, and affordable services. It also means strengthening the global capacity to prevent, detect, and respond to infectious disease threats. Hear from experts in the global health field on where we are in achieving universal health and what you can do to help.
Microlab 3
Artivism, Action, and Expression
Join leaders of Ghana's renowned Chale Wote Street Art Festival, Durham's Blackspace, Saxapahaw's Culture Mill and puppeteer Jeghetto to learn how cutting-edge artists are using every medium necessary to express big ideas about the direction of the world and drive popular culture, policy, politics, economics, activism, inclusion, and engagement.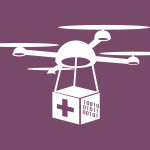 Drone Scavenger Hunt
Join leaders of Peru Flying Labs, a Peruvian innovation lab that focuses on solving local challenges through appropriate robotics and artificial intelligence, and on critical solutions in humanitarian, development, health, and environmental efforts. These local innovators have been conducting cargo deliveries of blood and medicine in the Amazon rainforest, search-and-rescue operations and data collection after natural disasters, and Zika reduction through the release of sterilized mosquitoes. Join a drone scavenger hunt across the Haw River to test out your skills and understand the challenges they face.
Follow the Money
Impact investing, corporate partnerships, social ventures, shared value, sharing economies, digital financing: what does it all mean and where are we heading in the development sphere and beyond? Learn about the latest trends, predictions, and innovative financing models from a panel of experts who are using new funding mechanisms to spark and support innovation and collaborations with impact.
Hone Your Story
Storytelling is a powerful way to incite change and influence policies and practices. These masterful storytellers will share their own incredible experiences and then help you craft authentic and compelling stories by tapping into your personal repertoire of voice, perspective, and view. You'll leave knowing how to tell your own story and use it as a tool to advocate for the changes you want to see in the world.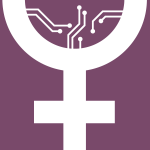 Sex, Data, and Women's Rights
Addressing sex, misogyny, women's rights, and equity in leadership, these champions are challenging the status quo and working to make a practical difference in the lives of women and girls worldwide. They use data, social media, education, and creativity to improve policies, strategies, and decision-making in support of women's rights. Join them in the fight for #genderequity.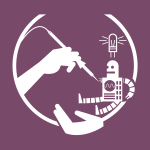 SwitchPoint Maker
Get your hands in the future and learn by playing with Foldscope, an ultra-affordable, paper-based microscope that you assemble yourself. It is designed to be inexpensive, durable, and give optical quality similar to conventional research microscopes. By breaking down the price barrier, the only limit to scientific exploration is individual curiosity and excitement! And learn about how emerging tools and approaches are enabling new paths for applying hardware to problems in developing countries with the DAI Maker Lab. 
The Village People
The Orange Foundation has been building water points, schools, and health care centers in remote villages across nine African countries serving over 250,000 people. The foundation seeks to improve infrastructures to ensure they provide the best possible services to residents in these Orange Villages. This lab features numerous SwitchPoint speakers' innovations and will engage you in an immersive experience as you work collectively to develop aspects of an ideal village.